How to Make the Most Out of Your Office Space
Paul
Your physical environment is one of the most significant factors to consider in the workplace, and maximising office space is key to building a great one – including in serviced offices.
Workspaces influence mood and productivity, either in a positive or a negative way, so you'll want to make the most of them in order to reap the benefits. A well-designed office can boost productivity around 20%; a bright, open space can improve your ability to concentrate on your work when compared to a dark or confined office environment.
Also, a little can go a long way. This means you don't have to completely refurbish or revamp the office. For example, our serviced offices in Barnsley and our serviced offices in Dudley have already been designed with you, the business owner, in mind; you just need to make it 'yours'. Just by tweaking a few features and making the most of your office space, you and your employees can benefit from an improved work environment.
So, how exactly can you maximise your office space?
Streamline Your Layout
The layout of your office, such as how you place your desks, will depend on your personal preferences, the size of your business, the number of employees you have, the décor you wish to add and the purpose of the space. Working with the physical features of the building can help you to maximise your office – if there is space under the stairs, for instance, why not place a big potted plant there while you use the rest of the office space for the desks?
Allow for enough room to walk in between desks as well. This will prevent your employees from feeling overcrowded and can help to make the space appear larger than it is. Of course, it also boosts the functionality of your office, as individuals are capable of moving at ease without bumping into anything or anyone.
When it comes to office furniture, comfort should be at the forefront of your decision-making. Both you and your employees will probably spend hours sitting at a desk working away at the computer; therefore, choosing ergonomic chairs will not only offer comfort but also help you to avoid health problems in the future, including back pain.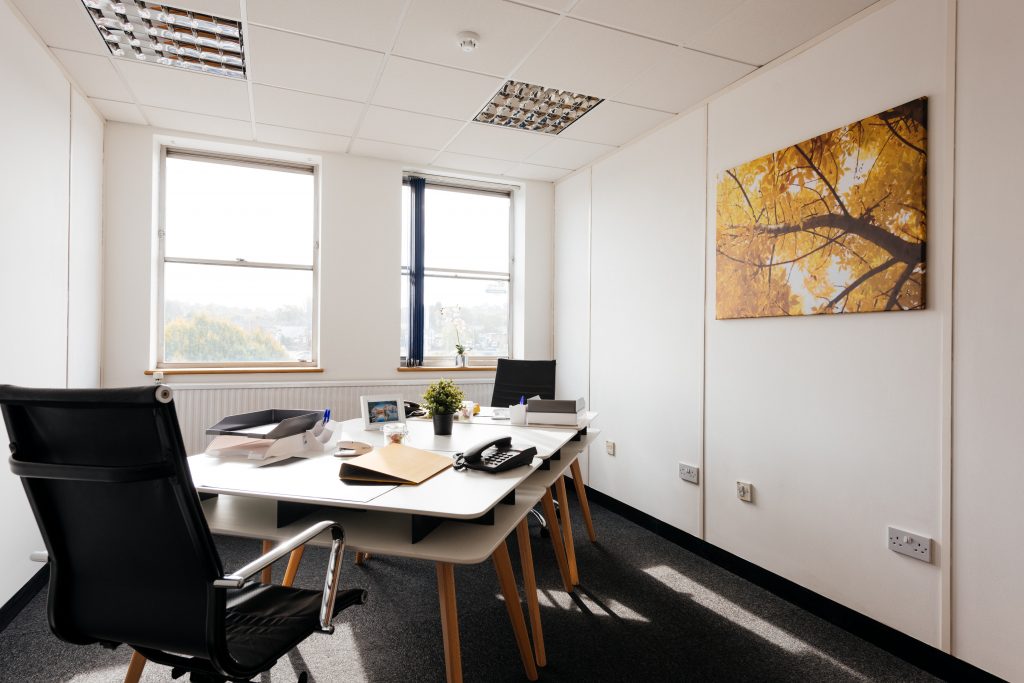 You also want to keep your office furniture as lightweight as possible, so as not to give a heavy, clunky aesthetic to the space. Light-coloured pieces will also help to reflect light.
It's All About the Lighting
Light is one of the most important aspects of working in an office, as it can have a very dramatic impact on the look of the office. Without it, the room or space would be too dark and feel too cramped. A dimly-lit office is also more likely to make people sleepy instead of energising them.
Dark colours with beautiful designer lamps may add a sophisticated appeal to the office, but it can also make it appear (and feel) smaller. It's important not to go too far the other way, however; a white, well-lit and sterile space may be bright but it's unlikely to boost creativity. You'll want to strive for a balance between the two extremes.
It's important to remember natural lighting too. Taking advantage of natural light will make the office brighter and give the impression of a larger space. So, when deciding where to place your desks, think about whether they'll be blocking the windows or are placed too far away from them; consider if sunlight will reflect off computer screens, however, which can make it harder for your employees to work.
Add Plants to the Office
Are you bringing the outside indoors by placing plants around the office? There are many benefits to adding plants to your workspace, such as improving productivity, providing cleaner air to breathe, boosting creativity, reducing noise levels (by absorbing sound, like distracting office chatter), cutting down stress levels, and making offices more attractive workplaces for potential employees.
This may seem too good to be true, but plants have been scientifically proven to have a positive impact in the office. Biophilia, or the desire to be connected with nature, is part of being human; this innate desire can lead to a 15% increase in productivity, for instance, which can be achieved just by adding a few plants.
Create Different Work Zones
Some employees work better alone, others need to perform group tasks or wish to brainstorm ideas with the rest of the team. Depending on your business and the work performed on a daily basis, it's important that your office space is capable of promoting productivity – this can mean having several workspace zones dedicated to different projects.
If your employees require a quiet place to focus or need enough room to work as a team, you can create separate areas by using plants or dividers, add comfortable bean bags for a relaxed and fun atmosphere, build a workstation where a large team can work together, and so much more.
These different zones could include a rest area. Anyone who works with computer screens all day knows how tired their eyes can get at the end of the day – providing a quiet, peaceful and tech-free zone can help your employees to recharge batteries and keep eye strain away.
While the last thing you want is to create an office with too much stuff, instead of a roomier open space, offices without plants, picture or knickknacks are some of the worst types of environments to work in. Make the most out of your office space by being strategic about your decisions; for example, a soothing water fountain can help create a relaxed environment, while an open space is more conducive to creativity than individual cubicles.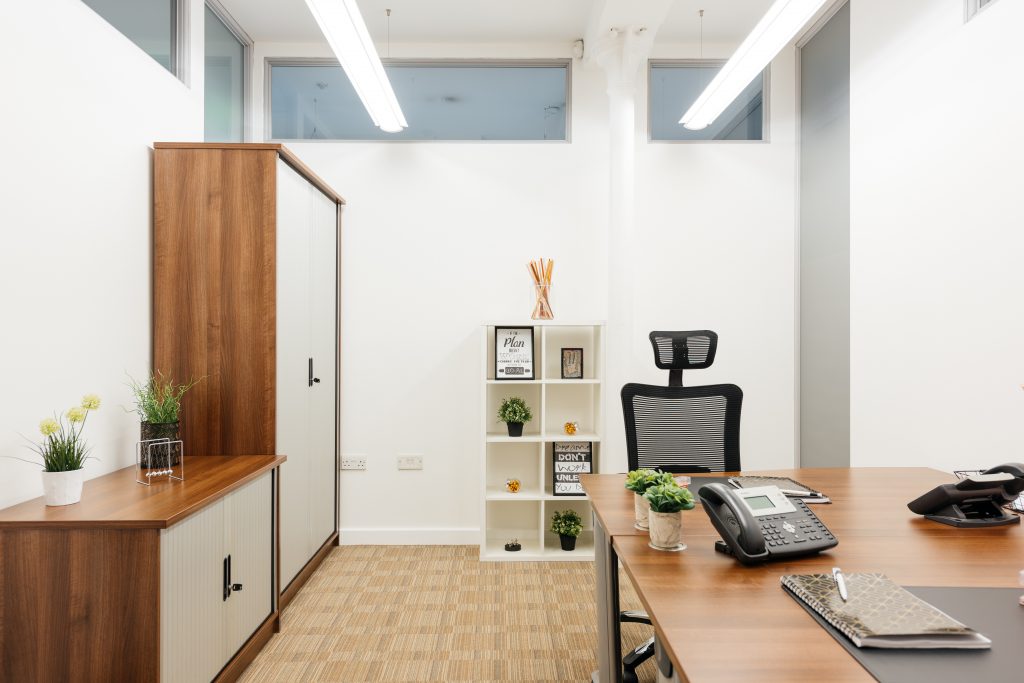 According to a recent study by The Instant Group, the demand for flexible workspace has increased by 19% in 2018 in global cities such as London and New York City – at Biz Hub, we believe this flexibility is the future, as it allows business owners to tailor and personalise their offices according to their individual requirements. Our offices across the north of England are perfect for a variety of businesses, and so are our virtual offices, so get in touch today to see how you can benefit.