How will COVID-19 Change Demand for the Office?
Paul
The rise of the digital era means that some people were already working remotely and running their business from home. However, with the impact that the COVID-19 pandemic has had on businesses, the number of people working from home has grown dramatically.
As the dust settles, it's clear that the traditional office as we know it is changing. Below, we're discussing how COVID-19 is altering the professional landscape and provide some insight into how things are expected to look in the near future.
People Want Balance
One of the ways the global pandemic is changing demand for the office is by allowing different options to come to light. Many people used to think that businesses absolutely needed a traditional workspace, but the truth is that they are now a lot more open to remote work.
It's clear that a significant amount of work can be done from home, and many employees even find it more productive. It creates a better work-life balance too, which employees appreciate.
Of course, it's also important to remember that office spaces are still needed (for example, for client meetings and for socialisation with colleagues), so a balance between the two should be the answer.
Having both options – remote work and office work – is healthier for businesses and can protect them against future issues. So, it's not surprising that so many businesses are opting for serviced offices, as it allows them to have the best of both worlds.
Remote Work Offers More Flexibility
It's important for businesses to be flexible in order to adapt to any situation, no matter how unexpected, as seen with the COVID-19 pandemic.
So, having both options available means that you can react quickly to changes. This applies to upgrading or downsizing your office as well. For example, if your business is growing and you need to hire more employees but don't have the space in your current office, you can simply have them work from home. Likewise, if you are downsizing, you can implement remote work to keep costs down.
Employees enjoy this flexibility. Being able to work from home allows many of them to have a more flexible (or relaxed) schedule, which gives them more time with loved ones and to run errands. Freedom from commuting is a massive help too, and will likely lead to a boost in employee satisfaction.
They'll still be able to come to the office for a few days a week and enjoy the benefits of being around their colleagues as well.
Face-to-Face Interactions Are Still Crucial
However, no matter how great an option remote work is, many people enjoy coming together to create ideas, solve problems, etc. Taking all that away can make it more difficult for them to do their jobs. Nowadays, many businesses depend on collaboration and there is no denying that socialising with colleagues helps people to feel more 'at home' in the business, happier and less isolated.
In addition, it's worth remembering that businesses want employees that fit in with the culture of the workplace and get along well with others. No better way to see this than by having a physical office where people can interact with one another.
Office space is vital for client meetings as well. While the way we interact with one another is changing, businesses still have to accommodate clients, partners and suppliers, something that can't be done at home.
More Office Space?
Surprisingly, the COVID-19 situation may mean some businesses require more space, not less. Some can simply implement a rotating schedule to have only a handful of employees in the office at any given time while the rest work from home, but others will need to ensure they have enough space for everyone while complying with new health and safety regulations.
With social distancing in place – as well as a higher concern for illness in the workplace, be it the coronavirus or the flu – businesses must ensure they have enough space for everyone.
It can be challenging to know how much office space you actually need, which is why serviced offices are the perfect option.
You can hire office space without a long-term commitment, which gives you time to decide the perfect office size for your business. If you find that you require more or less space, moving to another premise will be an easy and smooth process. After all, because furniture is included and utilities are taken care of for you, you can just move in without a hassle.
How Biz Hub Can Help
We can provide short-term solutions with our serviced offices in the North West. This allows employees of a particular business to have the option of working from home if they want or to work from a dedicated office space.
What's more, because we offer flexible contracts and short-term agreements, you don't have to worry about being stuck in a lengthy contract if something happens again in the future. We offer a meeting room hire service as well, so you can meet with clients and staff when you need it.
We can configure your office space to your exact specifications, as we're on top of safety guidelines and social distancing rules.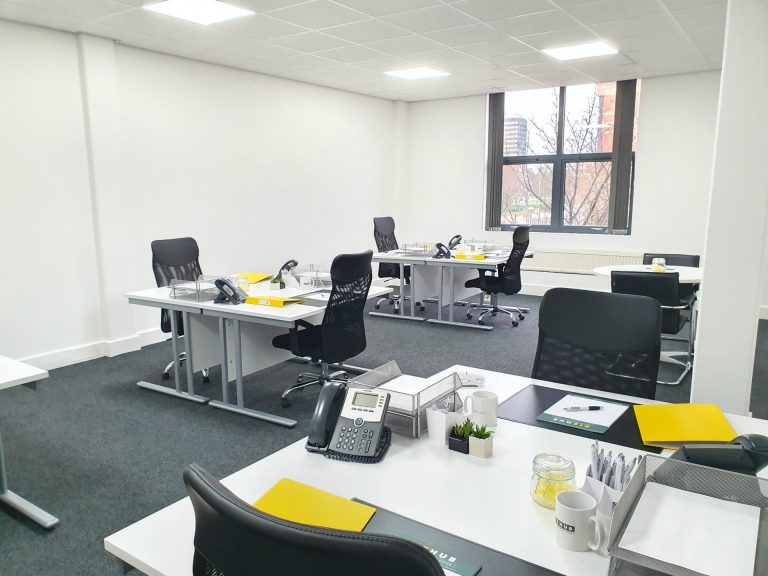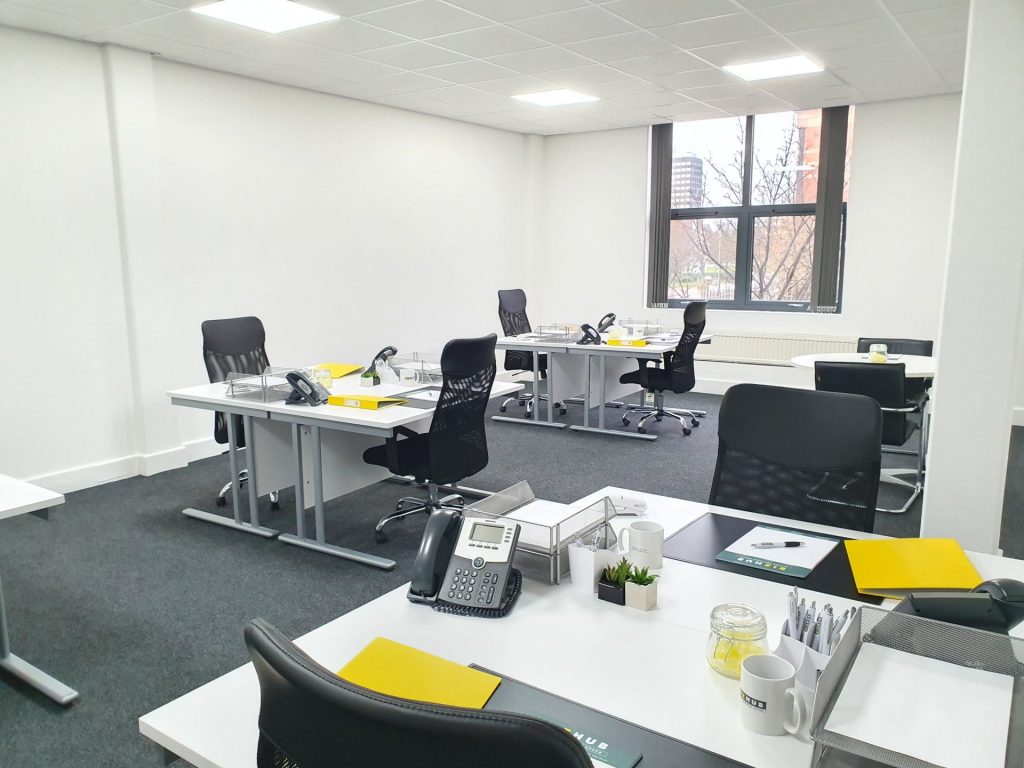 So, the pandemic has changed the traditional office in the sense that people are now looking for a more balanced approach. They don't just want to work in an office or from home, but both. They understand that interacting with colleagues and clients in a workspace is beneficial, but they also want the perks of a more flexible schedule without commute.
Serviced offices can answer your post-pandemic office requirements, so get in touch today to learn more about how we can help your business.