Signs You Should Upgrade To A Serviced Office
Paul
There are many things to take into account when setting up or running your own business. This is especially true at the start-up stage, where having the right plans in place can help with future success. While the obvious areas like marketing and business finance spring to mind, where your business will actually be based is a vital consideration too. Finding dedicated office space is a wise move as it will give you a base to work from which is your own.
With this in mind, many companies will opt to lease serviced offices. It certainly beats outstaying your welcome at the local café or renting more expensive traditional office space. Serviced offices have many benefits, including more flexible leases, to take advantage of. But what are the key signs that it is time to move to a location like this?
You Are Struggling With Your Work/Life Balance
There is no doubt that running your own business is rewarding and exciting, but it is also hard work and puts extra demands on your time. For this reason, many entrepreneurs can struggle with their work/life balance.
This is felt most keenly if you work from home, where the temptation to constantly be working when you should have clocked off is high. If working in this way is blurring the lines between work and home life too much, the simple answer is to move to a dedicated serviced office space. This gives you the physical separation needed to balance out your life and leave work at the office when you finish for the day.
You Need To Hire Staff
Another sign that it's time to consider moving your current business premises is when you need to hire staff. Working from home or at a small office space is obviously not practical once you have new employees working for you. Not only is space a concern, but the best talent will expect an attractive office to work from – not your house or a cramped office.
Having one space where everyone can interact and that has key business amenities is essential if you are genuinely looking to expand your operation. It is important to recognise this and see the hiring of new employees as a sign that you should also be renting serviced office premises.
You Need More Support Or Facilities
If you find that the support and facilities where you currently work don't cut it, it is time to upgrade. The beauty of leasing a serviced office space is that they come with all this included in your monthly fee.
Many serviced offices, for example, will have a manned reception, access to photocopiers and IT support. This means that you and your staff always have the support you need at hand, whenever you need it. Compared to working from home or even having to sort this out yourself at a traditional office space you lease, it is a simpler and more cost-effective way of working.
You Want To Move To A More Prestigious Location
Feeling like you need to be in a better location is a sign you should begin considering upgrading to a serviced office. This can be true whether you work from home or are renting in a location which you feel is not ideal for your business. Most serviced offices will be right in the heart of the action and situated in an advantageous business location. Close to transport links and other businesses, renting a serviced office can help you upgrade your business address quickly.
One of the biggest positives of renting this type of space, because it is generally a cheaper alternative, is that it allows you to set-up in a prime business location which you could not afford to lease traditionally. The flexible lease which serviced offices usually come with also allow you to test out locations, meaning you can find one which works best for you, rather than being locked into an area when it does not work out as planned.
You Want To Network With Other Businesses
Many serviced office spaces will be home to other businesses as well as your own. Over time, this can present some superb opportunities for networking and forging lasting B2B connections. If you feel that you need to be networking more or need to be where other businesses are, it is a definite sign that you should upgrade to a serviced office space.
The collaborative feel that a serviced office can bring to your business is a huge advantage and its effects should not be understated. Many people love having others around, even if you do not actually do business with them.
You Need Somewhere For Clients To Visit You
You will soon find that clients need to visit you as your business grows and, naturally, you want to make a good impression and host them in a professional setting. This will reflect positively on you as a business and make them more likely to work with you in the future. If this is now a pressing concern, it is time to upgrade to a serviced office, as inviting them around to your home with the kids running around or last night's dishes in the sink will just not cut it!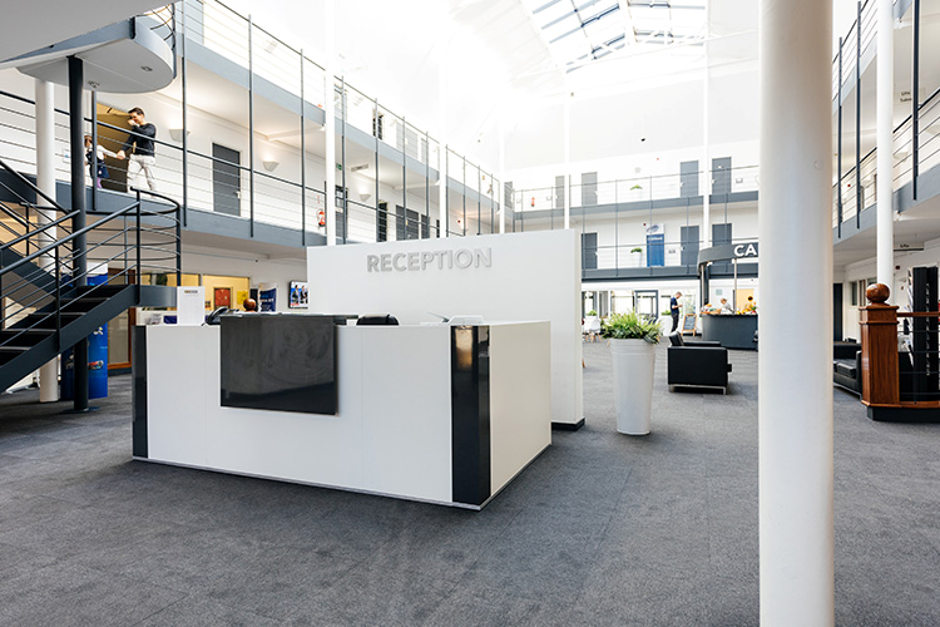 The need for a professional working environment is a typical sign that you need to think about leasing your own office space. Whether you are looking for serviced offices in Teesside, serviced offices in Middlesbrough or any other serviced offices in the North of England, it's well worth knowing that Biz Hub has a whole host of solutions across the region for your exact requirements.
Our professional and airy offices are sure to impress not only you but your staff and clients too. The serviced offices we lease contain fabulous business amenities to help you succeed. We have worked with many businesses in the North of England previously to find their perfect office solution – give us a call on 0800 012 9088 or email at info@biz-hub.co.uk for more details.