How Biz Hub Can Help You at the Moment
Paul
With the current climate, it's important for business owners to be able to get the best of both worlds. This means being able to work from home if necessary but having the option of going to the office as well.
Whether you require serviced offices in Barnsley, serviced offices in Liverpool or serviced offices in Manchester, just to mention a few of our North West locations, our flexible solutions are ideal for you. After all, if you don't want to be tied down to a lengthy contract but that still want to have some or all employees in the office, we've got your back.
Be Flexible
These days, it's incredibly important for businesses to be flexible. If not, they risk getting left behind or struggling to stay open. For example, businesses that were unable to make the move to online work during lockdown suffered and had to shut doors, at least temporarily.
The world as we know it is changing, so it's important that your office solutions reflect this. Biz Hub provide flexibility when it comes to renting office space, as we offer short-term agreements – perfect for people who don't want to get stuck with a long-term contract while the COVID-19 situation is still developing.
It's impossible to predict what will happen in a few months from now, so businesses can benefit from being able to switch back to working from home without getting stuck paying for office space they're not using.
Socialise with Co-Workers
One thing that many office workers felt during lockdown (or are still feeling, as is the case with many who are working from home) is a sense of loneliness and isolation. While having online meetings can greatly help to stay in touch with co-workers, it's easy to see why a large number of people want to work from the office as well, even if only for a couple of days a week.
They are able to properly socialise and banter with co-workers, a dynamic that is a lot more difficult to accomplish with remote work; after all, you can't simply turn around in your chair to share a joke with a colleague or chat about the weekend while you're making a brew.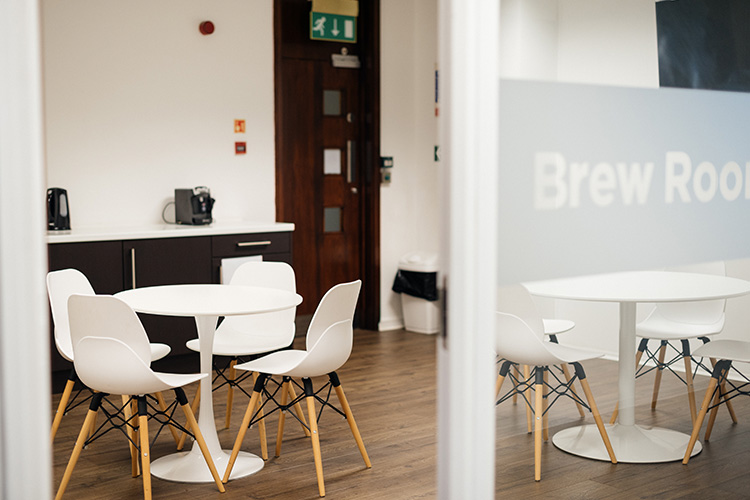 Biz Hub can certainly help with this as well. Our serviced offices can be configured to your exact specifications and allow you to interact with your co-workers or subordinates a lot easier than if you're working from home.
Work Your Way
Biz Hub's flexible solutions are great for a wide range of businesses, as we understand each business is unique and has different requirements. At the moment, the possibility of a second COVID-19 wave is not that far off, so it's crucial that you have the ability to work from an office while also being able to cease your rental agreement to work from home.
Many people are keen to return to the office, but it's also important that you're able to keep your employees safe at all times. Our serviced offices in the North West are compliant with government directive and take into account social distancing and sanitisation measures, so we'll handle all of this for you.
Save Money
While things are slowly returning to normal, they're not quite there yet – and many wonder if we'll ever get back to normal in the first place. This makes many business owners reluctant to make decisions or move to new premises.
However, with Biz Hub, you don't have to worry about losing money if you sign a rental agreement and end up having to work from home again. With our short-term arrangements, you can simply cut back the cost of the office if need be, and without a hassle.
This is a difficult and confusing time for many people, so we aim to get it a bit better by helping wherever we can.
What's more, because we provide fully serviced offices complete with furniture, broadband and telephone systems, you don't have to spend money that is better invested elsewhere. This is especially important when you're unsure whether you'll be able to work in an office for a long period of time or if the government will instruct remote work once more.
In short, if you want to return to the office, rest assured that we're following all government directives and will help to keep your employees safe – you can also choose a short-term contract that will save you money in the long run if you have to do remote work again.
At Biz Hub, we understand that businesses are not looking to make big decisions now, so it's vital that they have the flexibility of working however it's convenient at any given time. Don't hesitate to get in touch with us and see for yourself how our serviced offices are a great solution for your business.
You can also reach us on 0800 012 9088 or send us an enquiry to info@biz-hub.co.uk.