7 Common Mistakes When Searching for New Office Space
Paul
The right office is essential for the success of your business. It impacts your employees and your customers, so getting it right is important. Choosing the right work environment for your business can be a challenge but, by avoiding the following mistakes, we're confident that you'll find the perfect office space for you.
Mistake #1 – Not Considering All Options
The best way to find your new office space is to look at all the options available to you. Many business owners make the mistake of considering only more traditional options, which can turn out to be more expensive, not to mention time-consuming to furnish and move into.
Serviced offices, on the other hand, are a fantastic solution if you're looking for hassle-free, cost-effective office spaces, since they already have furniture, offer you a dedicated receptionist service and allow you to focus only on your business instead of having to deal with bills or maintenance.

Mistake #2 – Forgetting About Company Growth
Another common mistake business owners make is to underestimate growth. By anticipating all scenarios, including rapid company growth, you can plan and prepare for it. This means you can avoid leasing an office that's too small or big for you and end up wasting your money. At Biz Hub, you can easily scale your office space up or down, depending on your needs or estimated growth projections, so don't compromise on this issue when searching for your new office.
Mistake #3 – Miscalculating How Much You Can Do By Yourself
Renting a traditional office space means a time-consuming search, purchasing all furniture, dealing with maintenance and repairs if something gets broken, hiring a receptionist team, setting up bills, and more. If you outgrow your office space, you'll have to do it all again – think about how much you can actually do by yourself, since these will not only take time but are also a hassle, not to mention expensive.
By leasing one of our many serviced offices, Biz Hub takes care of everything, so you don't have to. This allows you to spend more time on your business and focus on running its day-to-day operations.
Mistake #4 – Not Choosing the Best Location for You
Location is key to any business. It allows you to be seen and recognised and can improve your company's reputation. A well-located office will also have close transportation links or provide on-site parking, which makes it easy to access for employees and clients. With so many serviced offices in the North West to choose from, you get all this and more.

Mistake #5 – Underestimating the Importance of Décor
Interior design may be the furthest thing from your mind when considering a new office space. Many even believe that any space will do as long as it fits everyone – however, a well-designed office can actually have a positive impact on your business, as it can improve employee productivity and satisfaction.
Imagine, for example, working in an office without windows or in a space with white walls and no decorations. It would be difficult to remain productive or engaged if your environment isn't pleasant to work in.
With Biz Hub's serviced offices, you don't have to worry about a thing. You can easily transform your new space into the office you've always envisioned in your mind, from adding your business brand to making sure your employees can add their personal touches. Our offices are perfect for modern businesses and employees.
Mistake #6 – Not Visiting the Office
It may seem obvious, but you should visit the office space you're interested in renting before making your decision, especially if you're unsure how much space you actually need or have trouble visualising where your employees will be working. Visiting the premises also allows you to start planning your new office layout, so that you're ready when moving day arrives.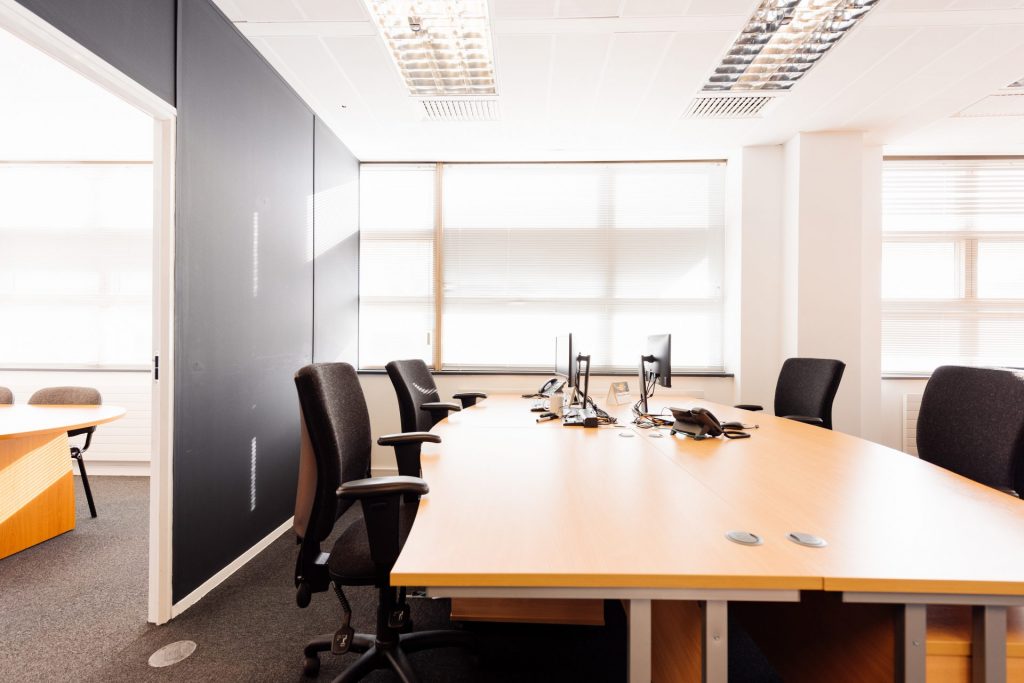 By doing this, you'll be confident that you've chosen the perfect office for your business.
Mistake #7 – Not Considering Additional Features
Do you want a break room for your employees to relax or enjoy a cup of tea? Do you sit at a desk all day and believe you could benefit from an on-site gym? Or do you need parking for all of your employees? Choosing the right office doesn't mean just picking out any space; it also means considering any potential features or amenities that you believe will benefit your business, your employees and, of course, your customers.
Avoid these pitfalls by choosing Biz Hub for your office needs. We have many office spaces to rent across the North West, so we're confident you'll find the perfect one for you. In addition, because we understand that each business is unique and comes with its own requirements and challenges, we also have industrial units to offer, as well as a meeting room hire service – suitable for all types of business.
Why not get in touch with the Biz Hub team today to learn more about our fantastic offices? We're more than happy to discuss our services with you and answer all of your queries.