Top Tips for a Stress-Free Office Moving Day
Paul
There are many reasons why businesses relocate to a different office. Perhaps they're expanding or want to cut down their expenses. No matter the reason, everyone can agree on one thing: moving is stressful. Packing everything in boxes (while ensuring you have enough boxes in the first place), making sure no file is lost in the move, not knowing what to do with all that clutter that accumulated over time, etc…
However, it doesn't have to be like that.
Moving day doesn't have to be stressful, whether you're moving to serviced offices or industrial units, for example. While there is so much to do and not a lot of time to do it, you can still enjoy a smooth, hassle-free move into your new office if you plan ahead.
Hire Professional Help
This is especially important if you have to deal with a lot of equipment and furniture or are relocating to a new place away from your current office. A hiring company can help you to get everything to your new space with ease, so you don't have to, freeing you from the hassle and from the stress of having to move everything yourself.
Create a New Floor Plan
Ahead of your move into a new office, it's crucial that you spend some time understanding its new layout and creating a floor plan that will streamline your operations. For instance, you may want to implement an open-plan office or, perhaps, wish to create quiet areas or zones where teamwork is encouraged.
Plan for the best use of the available space and organise everything ahead of time, from where your employees will sit to where your office equipment will be placed. If you're moving into one of our serviced offices, we offer fully-furnished spaces that will remove the hassle of having to move furniture or the expense of having to purchase new pieces.
Get Rid of Clutter
The last thing you want to have to worry about is packing and moving office clutter that has built up over time. Instead, sort it ahead of time and take that opportunity to throw away or donate any unwanted items. This way, not only are you going to your brand-new office with a clean slate, but you also don't have to worry about taking care of things you no longer need or doesn't match your new mission or vision. This can refer to old computers, furniture or documents.
Cancel Services That Are No Longer Needed
When moving into a serviced office, you won't have to worry about utility bills or maintenance costs – we take care of everything for you. This means that, before your move, you should cancel any services at your old office that you don't need anymore. Be it the electric bill or your internet service, cut off any loose ends in preparation of moving into your new office.
Choose a Convenient Date
When is the best time for you to move? If you're considering a move in the near future, there's no point in postponing it, so pencil it in the calendar and start preparing immediately. Knowing 'moving day' is set in stone will help you to avoid unnecessary delays.
On the other hand, you also want to make sure that you choose the date that is most convenient for your business when it comes to minimising disruption. Choose a day that in which you expect to be less busy and make sure to re-schedule any client meetings or deadlines so that your move won't impact your day-to-day operations.
Let Customers (and Stakeholders) Know You're Relocating
Your customers, just like your stakeholders and suppliers, need to know that you're moving to a new location. While this may seem like an obvious thing, the truth is that many businesses overlook it when moving. Also remember to update your website, business cards and social media, as well as anything else that has your contact information and address.
In short, make sure that your clients and partners are aware of the move and any effects it can have on your business during this move, such as with opening times.
Keep Up Business as Usual
Before and during your move, it's natural to keep your mind busy thinking about the relocation. However, it's important that you also maintain business as usual. This can be a challenge, especially as there are so many things to do before changing offices, but businesses need to have a plan in place to ensure that clients or partners don't experience a service loss or disruption. Relying on cloud-based systems for storage of important documents and work can minimise the need for computer servers or filing cabinets, which will make the move easier.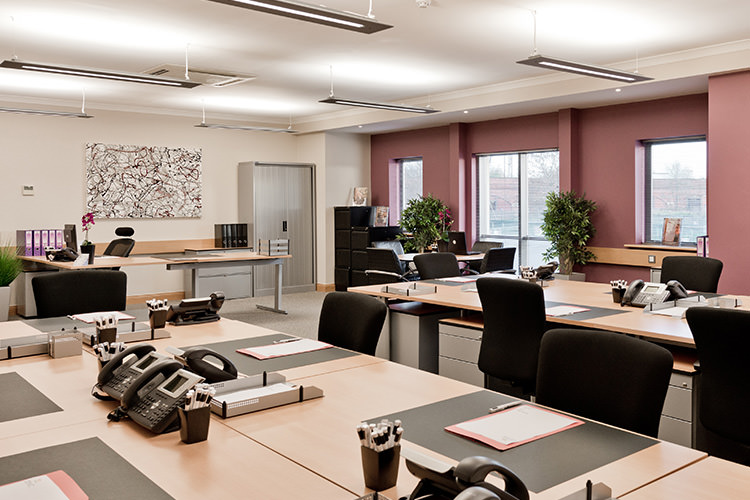 At Biz Hub, we understand that moving to a new office can be stressful at times, but our tips aim to make it a smooth relocation. In addition, we provide solutions that take the hassle out of renting office space – in fact, our offices are ready for you to move into as soon as you want and we'll take care of any hassle for you, from utility bills to reception services.
We have offices located in the following areas:
Contact us today or send us a quick enquiry to learn more about what we can do for you.